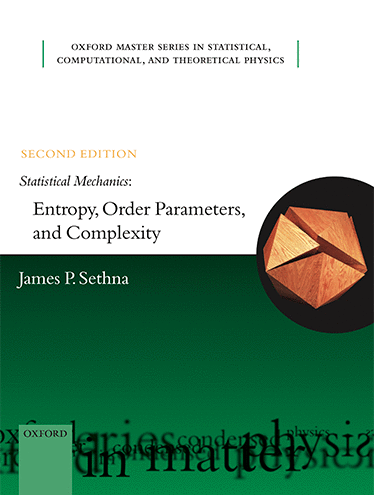 Available as pdf, and from Oxford University Press ( USA, UK, Europe), Amazon.com (USA, UK, Germany, France, Japan), Barnes and Noble, and WHSmith (UK)
James Sethna
Random Walks and Emergent Properties

Self-similarity and fractals

Temperature and Equilibrium

Invariant Measures; Ergodicity

Entropy

Does Entropy Increase?
Shannon Entropy, Entropy of Glasses
Life, Heat Death of the Universe, & Black Holes

Free Energies and Ensembles

Canonical, Grand Canonical, and Gibbs

Quantum Statistical Mechanics

Bosons: Bose Condensation and Superfluids
Fermions: Metals, White Dwarves, Neutron Stars

Computational Stat Mech: Ising and Markov

Monte Carlo, Metropolis, Wolff
Stochastic Chemistry: Cells and Gillespie
Networks and Percolation

Order Parameters, Broken Symmetry, and Topology

Homotopy Theory and Topological Defects
Excitations and Goldstone's Theorem
Dislocations, Disclinations, and Vortices

Deriving New Laws

What is a Phase?
Symmetry and Analyticity: Landau

Correlations, Response, and Dissipation

Fluctuation-Dissipation
Causality and Kramers Krönig

Abrupt Phase Transitions
Continuous Phase Transitions

Universality and the Renormalization Group
Scale Invariance and Fractals
Percolation, Bifurcation Theory, Routes to Chaos
Jacob Alldredge's This Is Stat Mech
Chen Wang's proof that the Origami Microstructure is unfoldable in three dimensions (exercise 11.7).
An answer key to most of the exercises is available to instructors on request (e-mail sethna@lassp.cornell.edu for the solution manual). Latex files for generating your own answer keys are also available. Please do not post answers to exercises from this textbook on the Web, or distribute them in electronic form.